PST Merge Software
Merge Multiple Outlook PST Files into one PST File
Outlook Merge - Amalgamating Multiple PST Files into Single!
It is quite understandable that when you are using Outlook application constantly for a long period of time, your Outlook email mailbox gets accumulated with a large number of PST files.
Problems Caused due to Many PST Files: Collection of multiple PST files in your Outlook mailbox may lead to various problems. Some of the most common problems likely to occur are mentioned below: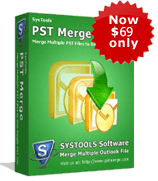 Difficult to Manage Multiple PST Files: Collection of PST files in bulk can create confusion which ultimately leads to irritation. To handle large number of PST files is not an easy task. In place of handling so many files, it is better to merge entire email data of multiple PST files into single PST file using an Outlook merge tool.

Particular Search is Tiresome from Too many Files: It is quite tiring and difficult to search particular information from the huge bulk of files. You need to open all files one after the other, which is a time-consuming process. Instead, search from a single PST file containing data of multiple files is a far better option.

To Assemble Different Outlook Accounts from Different PST Files: In a multi-user environment, say an enterprise, there are different email accounts, which lead to multiple PST files of different accounts. It is sometimes useful to combine together all the PST files into single PST file to be kept at one place.
Outlook File Merge: Use PST Merge software to merge multiple Outlook PST files into a single PST file. This Outlook file merge tool has already proved fruitful and useful to many users .