Split PST Software
Outlook PST Files Split - Useful and Beneficial Process!
For many years, have you been constantly working on Outlook email application to fulfill your emailing requirements? Are you now facing slow Outlook speed and performance due to bulky PST files accumulated in your mailbox? You problem can be easily solved if you invest in a third-party Outlook PST file split tool to divide PST files into several smaller parts or smaller sized PST files, which will enhance Outlook speed and performance.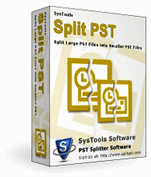 Problems Created by Bulky PST Files: Large sized or bulky PST files can create slowness of the application and reduced Outlook's performance in carrying out the emailing operations like to send and receive emails, to store contacts etc. Another forthcoming problem with large sized ANSI PST files is of corruption, which is likely to happen when ANSI PST files exceed the 2GB maximum limit mark.


Outlook PST Files Split to Speed Up Outlook: A PST breaker will help you reduce PST file size by splitting large sized PST files into several smaller sized PST files, which will surely result in speeding up slow Outlook. A useful third-party tool is Split PST software. This Split PST tool is simple and intuitive in nature, thereby giving you utmost ease and comfort of usage.
Want to Know More About Product?

Version: 4.0 File Size: 5.0 MB OS Requirements: Win 98/2000/XP/2003/ME/Vista/7
Use Demo version of Outlook PST File Split software to successfully split first 50 emails of Outlook PST files. After satisfaction with Demo, get full version as personal license only at $49 and business licenses only at $129.